December 8, 2011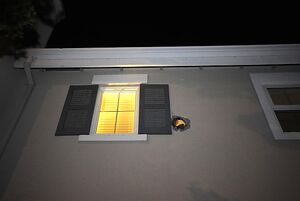 The mythbusters accidentally misfired a cannonball which hit a house and a minivan.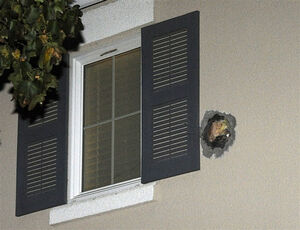 The owner of the home damaged in the "Mythbusters" cannonball accident said he's working on repairing the damage.
"I'm just trying to get my house fixed," said the owner, who did not identify himself, in a short interview with the Contra Costa Times. The paper said the hole from the cannonball had been patched but sunlight shining through the hole could still be seen inside the home.
A failed experiment for the popular Discovery Channel show sent the 30-pound cannonball soaring through Dublin, a suburb about 35 miles east of San Francisco. On Wednesday, "MythBusters" hosts Adam Savage and Jamie Hyneman visited the neighborhood. Savage said the affected residents would be paid for property damage as well as any hotel charges.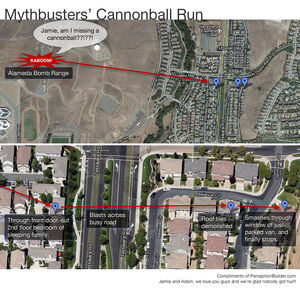 "We feel really lucky and fortunate that, after a nearly perfect safety record over eight years, that this mishap didn't lead to anybody being injured," Savage said in a phone interview with The Times. "We're gathering all the information we can. ... Our main concern is making sure this never happens again."
Nobody was injured when the metal ball missed its intended target at a military firing range and flew 700 yards off course, crashing into the bedroom wall of a sleeping couple, bounced off a roof of another house and landing in the passenger side of a minivan.
According to the Alameda County Sheriff's office, the show has used the firing range more than 100 times with no accidents before Tuesday's incident.
Some neighbors told KGO-TV San Francisco that "MythBusters" often tries its experiments in the area, and they had grown used to hearing explosions. But some residents expressed anger that the televised science experiments were occurring so close to their homes.
References
[
]